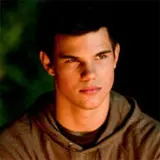 MTV is sharing 10 seconds from a new The Twilight Saga: Eclipse clip that will debut after 9pm EST Sunday, June 6 at the MTV Music Awards.
The clip features Robert Pattinson and Taylor Lautner squaring off in a war of words while Kristen Stewart looks on. The trio are expected to present the full clip in person.
New footage from M. Night Shyamalan's The Last Airbender is also expected to debut during the show per a tweet by producer Frank Marshall. Whether that's a clip, commercial or trailer we don't know yet.