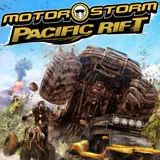 Sony Computer Entertainment America has released the final box art for MotorStorm Pacific Rift, the sequel to PS3's MotorStorm due in stores this fall exclusively on Playstation 3.
MotorStorm Pacific Rift offers some nice additions based on fan feedback from the original PS3 MotorStorm. Offline multiplayer has been expanded to allow for 4-player split-screen, while online multiplayer will now support 20 vehicles.
Speaking of online, Sony has expanded the features to include matchmaking, detailed stats and leaderboards, plus plans for comprehensive downloadable content including tracks, vehicles, tickets, game modes and themes.
When we head online, we'll want to sit behind the wheel of the new monster truck class vehicles that can literally run over the competition.