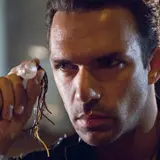 Warner Premiere's Mortal Kombat: Legacy live-action web series is coming to Blu-ray – and only Blu-ray – on November 8.
Mortal Kombat: Legacy is a 9-episode anthology that explores story lines within the Mortal Kombat video game universe. Since its episodic release over the past several months, the series has attracted over 12 million hits on YouTube.
Those who purchase the Blu-ray version of Mortal Kombat: Legacy will get to enjoy close to 30 minutes of bonus features, a portion of which is exclusive to the release. Here's the full list:
Mortal Kombat Legacy: Fights – A look at the role Fatalities and hyper-violence play in the Mortal Kombat storytelling process. Included within the piece is a detailed exploration of the fights and stunts staged during the production of the web-series.
Mortal Kombat Legacy: Fan Made – Go inside the mind of Mortal Kombat super fan Kevin Tancharoen and uncover his passion and vision that brought Mortal Kombat: Legacy to life.
Mortal Kombat Legacy: Expanding The Netherrealm — Multi-chapter documentary brings the Mortal Kombat universe to life. New!
Mortal Kombat: Mysticism – Discover the powers that define the characters. New!
Mortal Kombat: Gear – Explore all the weapons that make Mortal Kombat fighting unique. New!
Mortal Kombat: Legacy on Blu-ray carries an SRP of $19.98. It should retail for around $15 once Amazon.com begins taking pre-orders.