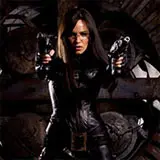 When we reported yesterday that the first GI Joe teaser poster featuring Duke was likely the first of many character posters in the pipeline, we didn't think "many" would arrive less than 24 hours later.
Two additional poster images have now surfaced courtesy of Hisstank.com, both snapped at the same Cinema EXPO in Amsterdam.
Joining Channing Tatum as Duke on their own poster are Ray Park as Snake Eyes and Sienna Miller as Baroness.
We're now at t-minus 48 hours and counting until the big GI Joe convention kicks off which should provide additional teasers for the upcoming 2009 live-action film, if not the first footage.