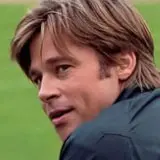 Moneyball claimed the top spot at the North American box office in its debut on Friday, but Disney's final weekend of returning The Lion King to theaters could still prove too powerful for the competition to overcome.
Opening on just under 3,000 screens, Moneyball connected with audiences in pulling in $6.75 million on Friday. It should finish the weekend in the high teens or right around $20 million, depending on whether word of mouth draws extra business through the weekend.
Disney's The Lion King wasn't far behind with $6.05 million on Friday off 2,330 screens. The advantage Simba and friends has is family-oriented entertainment tends to pick up speed through the weekend via matinee showings. The 3D ticket prices on the majority of screens could also push it further up the rankings and to around the $20 million mark.
Third place went to Warner's Dolphin Tale with a solid $5.1 million. Look for the "other" family film this weekend to finish around $15 million.
Hollywood's insistence on Taylor Lautner being the next big action star took a credibility blow as Abduction came in fourth with $3.8 million after critics blasted the film. It could finish the weekend around $10 million, hardly the type of numbers that an A-list action star is expected to draw.
Open Road Films' Killer Elite with Jason Statham, Clive Owen and Robert DeNiro rounded out the top five with $3.5 million in its debut. It will be a testosterone-driven battle between Killer Elite and Abduction for the fourth spot through Sunday.
Check back Sunday afternoon for our report and thoughts on the complete weekend box office studio estimates.