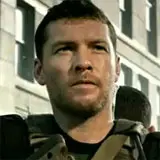 Activision has tossed computer generated imagery aside and brought in the big guns for the latest Call of Duty: Modern Warfare 3 trailer.
The trailer sends the message that there's a soldier in every one of us, and uses Hollywood actors Sam Worthington and Jonah Hill as the 'Vet' and the 'N00b' to illustrate their point. Dwight Howard, yes that Dwight Howard, also stops by to show what he's made of.
My hat goes off to Activision for putting this together. Gameplay trailers are always great to show off the game, but this live-action angle with comedy infused adds some extra entertainment value for the masses that no gameplay trailer could ever provide.
Call of Duty: Modern Warfare 3 hits stores in three days on November 8.
Click here to pre-order Call of Duty: Modern Warfare 3 for the newly reduced price of $56.99 on Xbox 360, PS3 or the PC at Amazon.com