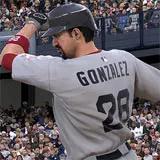 Back in November, Sony announced that Boston Red Sox slugger Adrian Gonzalez had landed the cover for MLB 12 The Show for Playstation 3 and Vita. I found it ironic that Gonzalez didn't land the cover prior to joining the Red Sox from smaller market team San Diego, but at least he's finally getting to stand alone in the limelight – even if it's late by several years.
Following up on that announcement, Sony has revealed the Playstation 3 cover art with Gonzalez making contact with a ball. The Vita cover was not part of the reveal, but will likely look identical, just scaled down for Vita's smaller case size.
MLB 12 The Show arrives on Playstation 3 with 3D support, and for the first time on what will be the newly released Vita handheld gaming device, simultaneously on March 6.