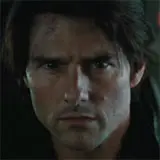 Tom Cruise is back in action as Ethan Hunt in Mission: Impossible – Ghost Protocol, the fourth film in the series and first in the past five years.
Up until now we've known very little about Mission: Impossible – Ghost Protocol other than Brad Bird is directing and Jeremy Renner is joining the cast as an IMF agent. The teaser trailer showed off Cruise dangling from the Burj Khalifa, but offered little in terms of plot.
A new Mission: Impossible – Ghost Protocol has arrived and tells us a little bit about what the IMF team is up to and why Cruise is on the outside of the Burj Khalifa's upper floors. It turns out the team is involved in an operation in Russia when the Kremlin is destroyed. They're blamed for the attack, disavowed, the IMF is shut down, and the team is attacked.
With only four members left after the attacks including Cruise, Renner and Simon Pegg, they must stop the threat while under 'Ghost Protocol' i.e. staying completely out of sight. That's something Hunt and his team excel at.
As for the Burj Khalifa, it turns out Hunt is trying to access some sort of computer server and the only way to reach it is from the outside. That scene should look fantastic up on the big screen, and especially on IMAX.
Mission: Impossible – Ghost Protocol arrives in theaters and IMAX on December 21.