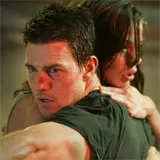 Paramount has pushed back the release date of Mission Impossible IV starring Tom Cruise from Memorial Day 2011 to December 16, 2011. Also opening that day is Fox's second Alvin and the Chipmunks sequel.
Pixar alumnus Brad Bird (The Iron Giant, Ratatouille, The Incredibles) Brad Bird is said to be circling the project to direct per Variety. Bird is currently working on the live-action film 1906 based on the book by James Dalessandro.
Tom Cruise and his co-producer J.J. Abrams developed the story and handed it over to screenwriters Josh Applebaum and Andre Nemec, who worked with Abrams on Alias, to turn it into a script.
Do you all think Brad Bird is a good candidate to direct Mission Impossible 4? It could be as close to The Incredibles 2 as we ever get.