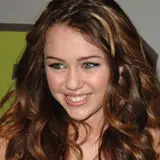 Miley Cyrus is making grabbing headlines look too easy and her intent on becoming a leading Hollywood actress too obvious. On the heels of her "up the skirt" incident with Perez Hilton and on the verge of her Can't Be Tamed album releasing next Monday, the young singer/actress who courts controversy with her mature acts is now attached to star in the the thriller Wake for MTV Films and Paramount Pictures.
According to The Hollywood Reporter, Wake is based on Lisa McMann's young-adult paranormal thriller that is part of a three-book series. Miley would play a 17-year old girl with the unwanted ability to jump into people's dreams. When she ends up in someone's nightmare, she goes from unwilling voyeur to active parcitipant.
MTV Films and Paramount are stated to have grabbed films rights for not only Wake but its sequels, Fade and Gone. All three books ended up on the New York Times bestsellers list. The hope is that Wake proves enough of a success to launch a franchise for Miley that would extend into her young 20s.
Miley's ultimate commitment to Wake depends on the adapted screenplay which is still a work in progress by Disturbia co-writer Christopher Landon. She has also been attached to Wings, a young adult novel about a girl who sprouts wings on her back. Disney holds the film rights to that one with work on an adaptation for the screen underway.