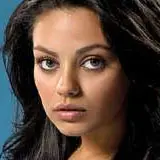 Darren Aronofsky may have scored yet again in casting the female leads for this latest which currently has no distributor.
According to The Hollywood Reporter, Mila Kunis is in negotiations to star alongside already cast Natalie Portman in Aronofsky's Black Swan. If cast, the petite females would share the screen for the first time.
In Black Swan, Portman plays a New York City Ballet ballerina who is continuously tormented by a rival dancer, the role Kunis is up for. The Aronofsky twist is the rival dancer may or may not be a figment of Portman's character's imagination.
The news comes conveniently right after Kunis completed a whirlwind publicity effort at Comic-Con. She put in an appearance at The Book of Eli panel, the Extract panel, and Family Guy panel.
The casting of Kunis after her role in Forgetting Sarah Marshall may get a distributor on board before shooting gets underway this fall in New York City.