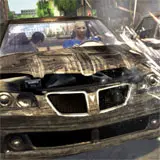 Midway Games has announced their upcoming new IP Wheelman will arrive in stores across the globe simultaneously on February 16.
Wheelman stars Vin Diesel and takes place in Barcelona. The game introduces vehicle melee which Midway describes the experience as, "you'll never want to play another driving game without it!"
In addition to starring, Diesel also co-produces and used the resources of his game development studios Tigon Studios in partnership with Midway.
Tigon and Midway are hoping for a big hit with Wheelman and in a vote of confidence have already begun developing a script to move the franchise into a theatrical film.
Wheelman on PS3 and Xbox 360 will retail for $59.99.