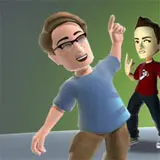 Earlier today Microsoft formally threw the switched and launched the New Xbox Experience, or NXE for short, now available as a required download via Xbox Live Marketplace.
The new Xbox 360 interface opens up a catalog of 30,000 standard definition and HD Netflix movies, allows you to create a group of up to seven friends plus yourself, and of course you can now create an Avatar of yourself that will appear in select games.
Launching with the New Xbox Experience today is Lips, Microsoft's "karaoke" game that makes use of the Avatar's. Other games are in the works.
I haven't had a chance to download NXE yet but am curious. At the same time, I actually like the "Blades" design and will miss it. I know I'm not the only one. The Next Xbox Experience is a mandatory download that will automatically initiate the next time you turn on your Xbox 360 and connect to the Internet.
This move, coupled with the Xbox 360 Arcade bundle selling for $199, should help Xbox 360 make a run for the top console sales spot this holiday season.