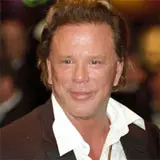 Mickey Rourke didn't take home an Oscar for The Wrestler but that doesn't mean the end to his spoils.
Per Variety, the reinvigorated actor has come to terms with Marvel to star as a villain in next year's Iron Man 2 joining recently signed Samuel L. Jackson to reprise his role as Nick Fury.
This signing comes not long after Rourke turned an offer by Marvel for $250,000. Presumably the new offer was much more appealing, aided by Robert Downey Jr. courting Rourke at every conceivable awards show over the past several weeks.
Rourke is set to play Whiplash, a character that includes elements from the comicbook villain of the same name and Crimson Dynamo, another Russian with nefarious intentions.
Screenwriter Justin Theroux and director Jon Favreau apparently have spent sessions with Rourke already to flesh out the character. With Rourke involved in Whiplash's development, this could end up being one trippy dude.
Marvel has yet to confirm Rourke inking a deal but that's not uncommon. They'll likely wait until they feel the time is right before spilling the beans under on their terms.