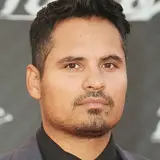 Marvel's Ant-Man cast is rapidly growing in size following year's announcement that Michael Douglas had been cast as Henry Pym.
According to The Wrap and later confirmed by other trade magazines, Michael Pena has been offered what would be the third role cast in Marvel's first Phase 3 Cinematic Universe role. Paul Rudd has already been cast as Scott Lang, otherwise known as the hero Ant-Man, while Pym is expected to be the biochemist inventor of the technology that causes Lang to shrink and grow at will, along with control ants, possibly seen at a younger age and played by a younger actor in flashback sequences.
THR is reporting that Marvel has been on the lookout for a "tough Latino who has to be ready for a lot of physical play," and Pena fits that bill. He recently appeared in American Hustle, a big winner at the Golden Globe Awards a couple nights ago, and beat out Javier Bardem to Clifton Collins Jr., amongst others, for the as-of-yet named part.
There's no confirmation that Pena has accepted the role and been cast yet, but all indications are that negotiations are underway and Pena is expected to land the part.
Director Edgar Wright will begin filming Ant-Man this April to get it ready for its July 31, 2015 release date. Expect more casting announcements, including the female lead to show up in the coming weeks.
Source: The Wrap