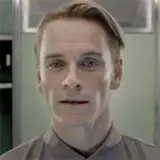 Michael Fassbender puts his acting chops on full display in a new viral video for Ridley Scott's Prometheus.
In the sorta-prequel to Alien, Fassbender plays an Android model that goes by the name of David. You can't have a proper Alien-related film without an Android figuring heavily into the plot, so David's presence feels right at home in Ridley's return to the genre he helped define.
David was developed by the Weyland Corporation and it is the founder Peter, played by Guy Pearce in the film, that extends happy birthday wishes to his android in the video. He appears very calm, cool and collected, almost gentle, as he walks through his responses to emotions. There's a genuine sense of gratitude as David thanks his creators for his existence.
Prometheus stars Michael Fassbender, Noomi Rapace, Idris Elba, Charlize Theron, Sean Harris, Logan Marshall-Green and Guy Pearce. The origins of mankind will be explored on June 8. You can catch Fassbender carrying the movie Shame on Blu-ray, in stores today.