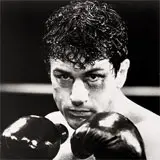 MGM Home Entertainment has issued the final disc specs and cover art for Raging Bull on Blu-ray Disc, scheduled to slam into stores February 10.
Raging Bull, shot in black and white and starring Robert DeNiro, comes on the heels of another Blu-ray classic distributed by Fox also shot in the black and white, the original 1951 The Day the Earth Stood Still.
MGM will present Raging Bull on Blu-ray in widescreen 1.85:1 1080p video and 5.1 DTS-HD Master Audio.
Bonus features are plentiful thanks to a previously released collector's edition on DVD. None of the features appear to be exclusive to Blu-ray. The complete list is as follows.
Commentary by Director Martin Scorsese and Editor Thelma Schoonmaker
Cast & Crew Commentary – Irwin Winkler, Robbie Robertson, Robert Chartoff, Theresa Saldana, John Turturro, Frank Warner, Michael Chapman and Cis Corman
Storyteller Commentary with Mardik Martin, Paul Schrader, Jason Lustig and Jake LaMotta
Raging Bull: Before the Fight – The writing casting and pre-production
Raging Bull: Inside the Ring – The choreography of the fight scenes
Raging Bull: Outside the Ring – Behind the scenes stories of making the fil
Raging Bull: After the Fight – The sound design, the music, and the impact of the film
The Bronx Bull – Making-of documentary
DeNiro vs. LaMotta – Shot by shot comparison in the ring
LaMotta Defends Title – Newsreel footage
Original theatrical trailer
Raging Bull on Blu-ray will retail for $34.99. It is currently available for pre-order at Amazon.com for $22.99. Click here to secure your copy.