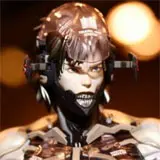 Metal Gear Solid producer Hideo Kojima is no stranger to Sony's E3 stage which he's used to announce multiple Metal Gear games in the past.
Today must have been both exhilarating and strange for Hideo when he walked onto Microsoft's stage to announce the first Xbox 360 Metal Gear Solid game. Yes, folks, Metal Gear Solid: Rising is currently in development specifically for Xbox 360.
The game stars Raiden who first appeared in Metal Gear Solid 2: Sons of Liberty on PS2 and again as a cyborg character in Metal Gear Solid 4: Guns of the Patriots on PS3. For the first time ever in Rising, Raiden will be a playable character.
Anthony Crouts, Vice President of Marketing for Konami, explained:
"The Metal Gear Solid series is one of the most highly acclaimed video game franchises of all time. With Metal Gear Solid: Rising, the Xbox 360 community will finally get a chance to enjoy the action and excitement that this popular franchise is known to offer."
At this time all indications are Metal Gear Solid: Rising will be exclusive to Xbox 360. PS3 fans will have to wait until tomorrow to see if Metal Gear has another chapter to play out on that console.