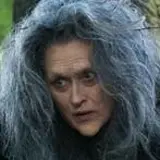 Production is now underway on Disney's live-action film Into the Woods, a new musical tale from Disney that weaves together classic fairy tales into a new twisted story.
The first image from Into the Woods reveals the Witch as played by Meryl Streep. In the film, the Witch seeks to reverse a curse and restore the beauty that has been stolen from her. The story will explores the consequences of several Brothers Grimm fairy tales including Little Red Riding Hood, Cinderella, Rapunzel and Jack and the Beanstalk, while a baker and his wife try to reverse a curse that the Witch has cast upon them.
Into the Woods also stars Anna Kendrick, Emily Blunt, Chris Pine and Johnny Depp. It will ride into theaters on December 25, 2014.