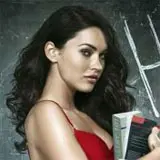 The final Jennifer's Body one-sheet movie poster has arrived courtesy of Bloody Disgusting and it's as much an eye opener as pants opener for fanboys the world over.
In the poster, Megan Fox dons her skimpiest schoolgirl uniform and jacks up the skirt revealing some serious leg. Anyone's eye who wandered to her rear might notice a boy's hand dangling out the desk. Good stuff.
As great as the imagery is the tag line is the epitome of lame. "She's Evil.. And Not Just High School Evil." Seriously, any of us could write a better tag based on the trailer alone.
While on the topic of Jennifer's Body, you can check out the green band trailer here and a new still image here. Head on over to Bloody Disgusting to see a larger version of the Jennifer's Body poster.