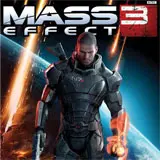 The Mass Effect 3 demo went live a couple days ago and I'm willing to bet most of you have played through it as many times as those precious free hours in your day will allot. You have been waiting patiently for a chance to jump into multiplayer, and that patience has finally paid off.
EA and BioWare tonight finally made the Mass Effect 3 multiplayer demo available to everyone on Xbox 360, PS3 and the PC. In this demo you won't be blasting against your pals as Earth crumbles to ashes around you. Instead, it plays like Horde mode where cooperation with friends will maximize the odds of living to see the next minute on the clock. You might want to start on Bronze level else fall to the ground faster than a 30-second television spot.
Speaking of TV spots, next up for Mass Effect 3 is a 90-second cinematic trailer that will debut during this Sunday's new episode of The Walking Dead on AMC. Here's a short tease to get you pumped for what should be something worth watching on a loop.
The full retail version of Mass Effect 3 is locked and loaded for release on March 6.
Click here to pre-order Mass Effect 3 on Xbox 360 with Kinect support at Amazon.com and earn a $10 credit toward your next purchase, as well as an exclusive M55 Argus Assault Rifle, for doing so.