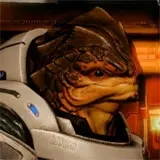 BioWare and EA are using the backdrop of Gamescom to release some new plot and character details along with a new trailer for next year's Mass Effect 2.
Joining the fray in your party is Grunt, a violent, brash and completely unpredictable Krogan warrior who shoots first and asks questions later. Though he is wild, he is also extremely powerful and can be an important asset if tamed.
Grunt joins previously announced party member Thane, a deadly assassin. Gaining both of these characters' loyalty as the game progresses will affect the outcome of each step along the way. "Building out a diverse and loyal party is one of the features that makes the Mass Effect series quite unique," said Dr. Ray Muzyka of Electronic Arts and BioWare. "The characters Commander Shepard recruits are not only pivotal to the storyline, but essential to the player's overall success."
EA and BioWare promise to reveal more characters in the coming months as Mass Effect's early 2010 release on Xbox 360 and Games for Windows looms.