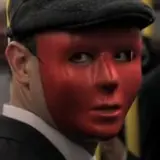 ABC and Marvel have shared a wide variety of Agents of S.H.I.E.L.D. pilot teasers and clips over the past few months. They have been shy about sharing what direction the show might be headed after the pilot even though the second episode is only a little over a week away.
Via EW, a new short Agents of S.H.I.E.L.D. has surfaced that offers a tiny glimpse into the post-pilot second and third episodes. It's only 26 seconds long, but does offer a tantalizing tease of men wearing what appears to be a Red Skull-influenced mask. Is Hydra alive and well in modern day? We'll find out soon enough.
According to EW, a 90-second version of this trailer will air during Monday Night Countdown ahead of Monday Night Football on ESPN. The first episode will then premiere the following night on Tuesday, September 24 at 8/7c on ABC.