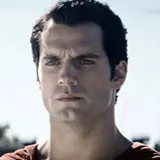 Update: Man of Steel gained box office momentum as Friday progressed and now is projected to earn approximately $50 million on Friday, and perhaps a little more. Friday through Sunday estimates are now in the range of $125 million, with Thursday through Sunday looking to finish in the $135 million range. Superman has arrived and appears ready to crush the best June opening of all time currently held by Disney and Pixar's Toy Story 3 with $110.3 million.
Zack Snyder's re-envisioning of Superman in Man of Steel pounded its fist into the ground and soared at midnight screenings across North America last night. With IMAX and 3D surcharges in play, Man of Steel will be looking down on the competition from the stratosphere this weekend.
Warner Bros. is reporting that Man of Steel drummed up a whopping $21 million on Thursday night as comic book and movie fans alike turned out in big numbers to see Henry Cavill don the infamous Kryptonian superhero suit to save our world from Zod, played by Michael Shannon. The film had already earned $1.7 million in the Philippines where it set an opening day box office record.
Around $12 million of the $21 million Thursday night business can be attributed to the special 7pm screenings held for moviegoers that purchased their tickets through a special promotion with Walmart. The success of that experimental program could lead to Warner Bros. attempting it again with another tentpole project, or another studio proving imitation is the sincerest form of flattery.
Current box office projections suggest Man of Steel will open its first weekend in North America somewhere around $90 to $100 million, though it could reach closer to $110 million if positive word of mouth and an "A" CinemaScore help drive additional ticket sales. A final box office tally between $200 million and $300 million seems like a surefire bet.
Man of Steel will need to produce overseas if Warner Bros. hopes to recoup its costs. With a bloated budget estimated at around $225 million, the film will need to wrap its worldwide box office run somewhere in the neighborhood of $500 million just to break even. The strong start in the Philippines is a good sign, and we'll know more in a couple days after Man of Steel opens in Mexico, South Korea, and the United Kingdom.
The success of Man of Steel will affect more than the investment in this one film. Warner Bros. has adamantly expressed a desire to not only develop a sequel should the film succeed, but open up a wider world of DC Comics superheroes that begins with Henry Cavill as Superman. It's not out of the realm of possibility that Warner Bros. would announce a sequel or other Justice League tie-in film at Comic-Con next month as the success or failure of Man of Steel would be fully registered by that time.