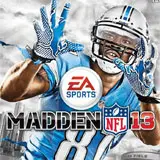 Last night's Monday Night Football game between the Seattle Seahawks and Green Bay Packers ended on a sour note unless you're a Seahawks fan. The replacement officials botched a game-changing call on the last play of the game, robbing the Packers of a victory and handing one to the Seahawks on a silver platter.
While the replacement officiating has left a lot to be desired, Amazon.com hopes to life your spirits today in the aftermath of the Monday Night Football debacle. For today only, Amazon is selling Madden NFL 13 on Xbox 360 or Playstation 3 for $39.99. That works out to 33% off the list price and by far the lowest price I have seen it go for yet.
Those of you familiar with Amazon will also know that Madden NFL 13 qualifies for free shipping since it is priced over $25.
Click here to buy Madden NFL 13 on Xbox 360 or PS3 for $39.99 at Amazon, good for today only.
In case you're on the fence about picking up the game, read our Madden NFL 13 review to see what's new.
Remember, Madden NFL 13 doesn't have replacement refs. Even for Packers fans.