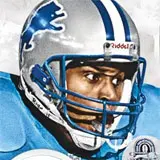 Amazon.com and EA Sports have announced that the Madden 25th Anniversary Edition for Xbox 360 and Playstation 3 will come with exclusive perks available only to Amazon customers: Free NFL Sunday Ticket via DirecTV.
Madden 25, with legendary Detroit Lion running back Barry Sanders on the cover, is a celebration of 25 years of Madden football. The "Anniversary Edition" includes a special 17 week Madden Ultimate Team pack subscription, as well as a code that delivers the all-important NFL Sunday Ticket game package.
NFL Sunday Ticket allows gamers to watch live NFL football each week on their computers, tablets and mobile devices. NFL Sunday Ticket was also available on the PlayStation 3 during the two previous seasons. No word yet if the PS3 will have the application again in 2013, though it is a likely possibility, including availability on PS4 as well.
For current DirecTV subscribers, the free NFL Sunday Ticket promotion will knock $10 off your bill each month and give full one year access to the NFL Sunday Ticket MAX service, which includes up to 13 games a week on mobile devices and includes access to the popular Red Zone channel.
This promotion is exclusive to Amazon.com and the Anniversary Edition retails for $99. The game itself retails for $59.99 and the NFL Sunday Ticket Max was available last year for $299.00, or an additional $100 for current DirecTV Sunday Ticket holders. Anyway you look at it, this is an incredible deal.
Click here to pre-order Madden 25th Anniversary Edition for Xbox 360 or PS3 at Amazon.com with free shipping.