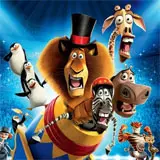 Adam Sandler and his new comedy That's My Boy, along with Tom Cruise and his big hair in Rock of Ages, were no match for the animal circus in Madagascar 3: Europe's Most Wanted this past weekend at the box office. In fact, the top two spots were both claimed by holdovers in an otherwise lackluster Father's Day weekend for Hollywood.
Madagascar 3 continued to draw in kids and families in its second frame, dropping 41 percent from its opening weekend with an estimated $35.5 million in ticket sales. Through 10 days, the second Madagascar sequel has earned just over $120 million. Look for it to cross $150 million within the next week and have an outside shot at $200 million before all is said and done. The original came up a little short with $193.6 million before heading off to home video.
Ridley Scott's Prometheus landed in second place with $20.2 million. Normally that kind of sophomore outing wouldn't be too bad, but in the case of Prometheus, the 60 percent drop from its opening weekend is far from subtle. At $88.9 million and counting, Prometheus will surely cross $100 million domestically but isn't expected to go much further. Overall worldwide business is more robust at $217.5 million.
Rock of Ages had to settle for third in its premiere, once again proving 80s nostalgia and Tom Cruise isn't always a sure bet. The paltry $15 million opening is a far cry from the $27.8 million Mamma Mia! enjoyed, and Rock of Ages had a much larger marketing push and Tom Cruise's name helping promote it. Look for Rock of Ages to rock out on home video before too long.
Fourth place went to holdover Snow White and the Huntsman with $13.8 million. Universal's dark fantasy starring Kristen Stewart, Chris Hemsworth and Charlize Theron has topped $120 million and a sequel is already in the early stages of development.
Adam Sandler can't buy a hit anymore with the latest example being That's My Boy. A fifth place opening at $13 million is even lower than last year's Jack and Jill at $25 million. It's time for Sandler to give up new characters and go the sequel route with one people will actually care about.
The top 10 rounds out as follows:
6. Men in Black 3 – $10 million ($152.7 million overall)
7. The Avengers – $8.8 million ($586.7 million overall)
8. The Best Exotic Marigold Hotel – $2.2 million ($35.1 million overall)
9. Moonrise Kingdom – $2.18 million ($6.8 million overall)
10. What to Expect When You're Expecting – $1.3 million ($38.7 million overall)
Pixar returns to the box office fray next weekend with their latest Brave, while Fox is counter-programming with the hack-and-slash thriller Abraham Lincoln: Vampire Hunter. The Focus Features dramedy Seeking a Friend for the End of the World starring Steve Carell and Keira Knightley will open on less than half the screens of the aforementioned newcomers. By next Sunday, someone will have toppled Madagascar 3, and Tom Cruise and Adam Sandler will be looking up at the top 5.