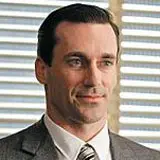 Mad Men and the return of John Hamm as Don Draper at Sterling Cooper Draper Pryce shrugged off an 18-month hiatus by kicking off Season 5 with the highest ratings the show has ever seen.
The two-hour Mad Men: Season 5 premiere Sunday night at 9pm on AMC pulled in an average of 3.5 million total viewers, a series high that surely put a smile on creator Matthew Weiner's face. That tops the Season 4 premiere by a cool 600,000 viewers or roughly a 21 percent increase. Figuring in the encore performance at 11pm, the Mad Men return attracted 4.4 million total viewers.
Digging deeper into the Mad Men ratings confirms a successful return in the key advertiser friendly demographics. In the 18-49 demo, Mad Men scored 1.6 million viewers. The 25-54 demo was similarly successful with 1.7 million.
While Mad Men set a new franchise ratings record, it fell far behind the numbers AMC's other hit The Walking Dead recently rung up. For its Season 2 finale a little over a week ago, The Walking Dead set a cable ratings record with 9 million total viewers, or 5.5 million more than Mad Men.
The key for Mad Men will be to retain its high ratings as Season 5 progresses. The earmark of a hot show is when the ratings increase episode-to-episode, rather than decrease. That might be a tall order for Mad Men whose overexposure in the media over the past several weeks may have contributed to attracting many curious onlookers with no intention of returning for more.
Mad Men: Season 5 continues next Sunday evening on AMC.