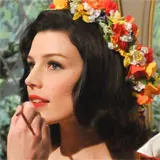 Mad Men closed its fifth season on Sunday night in true style, helping close out a season that will go down as the most watched in the show's history.
The Mad Men: Season 5 finale 'The Phantom' was the most watched of any season at 2.7 million total viewers. Including all the other Season 5 episodes, Mad Men averaged an attractive 2.6 million viewers per episode, also a series high.
Over in the 18-49 demo where advertisers key on, Mad Men averaged 1.1 million per episode throughout Season 5. That's a healthy 17 percent increase from Season 4 and evidence that Mad Men is alive and well.
Mad Men showrunner Matthew Weiner has already offered up a hint as to who may not appear when AMC premieres Season 6, presumably next year. According to TV Line, Weiner says Don Draper (Jon Hamm) walking away from Megan (Jessica Pare) could signal the last audiences will see of Don's wife. Said Weiner of the pivotal scene, "We see her on the [Butler Shoes commercial] set and we realize that she's gone."
Weiner isn't saying definitively whether Pare has played her last scene in Mad Men or not. He has, however, certainly opened the door for the actress to exit for good and send Don Draper into full-time singles mingle mode in Season 6.