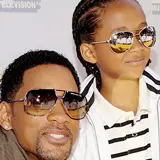 M. Night Shyamalan's career could be getting the boost it desperately needs in the form of box office powerhouse Will Smith and his son, Jaden.
On Monday, Sony announced that Will and Jaden have signed on to star in an upcoming untitled sci-fi film that M. Night Shyamalan has written and will direct. The film is set 1,000 years in the future where Will and Jaden will play an estranged father and son team that must navigate a hostile earth environment after their ship crashes.
For the Smith's, it's a chance for father and son to reunite on the big screen after they worked together in the 2006 drama The Pursuit of Happyness. Will did produce last summer's The Karate Kid remake which starred Jaden and made nearly $360 million at the worldwide box office.
Shyamalan can certainly use the Smith's proven ability to bring in box office dollars. Audiences have turned a cold shoulder to the writer/director after his last three films, The Last Airbender, The Happening, Lady in the Water, and The Village, failed to connect with audiences or critics. He's already called working with Will and Jaden in a "a scary, science-fiction film" his dream project.