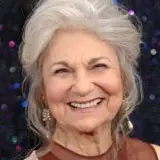 Lynn Cohen is the latest new cast addition to Lionsgate's sequel The Hunger Games: Catching Fire.
The Munich actress will step into the shows of Mags, an 80-year old former Hunger Games victor from District 4. Mags will serve as a mentor to Finnick Odair, a coveted role that has yet to be cast despite strong rumors that Sam Claflin (Pirates of the Caribbean: On Stranger Tides) is a couple contract kinks away from sealing a deal.
In addition to appearing in Steven Spielberg's Munich, Lynn Cohen has appeared in countless films including The Station Agent, Sex and the City and Synecdoche, New York.
Cohen joins a handful of other new castmembers that will debut in The Hunger Games: Catching Fire including Jena Malone as Johanna Mason, Philip Seymour Hoffman as Plutarch Heavensbee, and Amanda Plummer and Wiress. They join all the surviving returning castmembers including Jennifer Lawrence, Josh Hutcherson and Liam Hemsworth.
The Hunger Games: Catching Fire begins shooting this month with Francis Lawrence taking over directorial duties from Gary Ross. The second of four planned films based on the young adult book series by author Suzanne Collins will make its way to theaters on November 22, 2013.