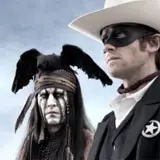 Tragedy has struck the production of Disney and Gore Verbinski's The Lone Ranger summer blockbuster after one of its crew members sadly passed away earlier today.
According to reports that originated at TMZ and later confirmed by a Disney rep, the unidentified crew member was working in an underwater tank in Los Angeles on a day when no shooting was scheduled to occur. He was apparently preparing the tank for upcoming shooting scenes, possibly cleaning its insides.
Another worker noticed no bubbles were coming from the crew member's diving gear. After being pulled from the water, the crew member was rushed to the hospital where he was later pronounced dead.
The TMZ report was later updated to conclude the crew member suffered cardiac arrest while in the tank and subsequently drowned. Law enforcement officials are treating the death as coming from "natural causes" and not an accident caused by The Lone Ranger production.
The Lone Ranger is in its last legs of principal photography in California after shooting on location in Colorado, Utah, Arizona and New Mexico. The Johnny Depp star vehicle film opens in theaters with hopefully a tribute to the deceased crew member on June 28, 2013.
Source: TMZ