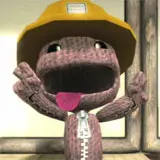 Sackboy is often accused of always wanting to create new elaborate levels and zany creations in LittleBigPlanet. It's quite the sight to watch the little ball of yarn do his thing.
In this new video from Sony and Media Molecule, Sackboy gets to show off his creative abilities in assembling everything from a plane with parachutists to a giant Godzilla-like monster.
The video is sped-up to give you an idea of how the creation process looks and may even inspire you when you get your grubby little hands on LBP.
LittleBigPlanet arrives in stores next week exclusively for Playstation 3.