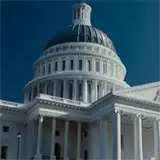 Last night's first Presidential Debate proved the perfect platform to let an extremely large audience know about the upcoming biopic Lincoln from director Steven Spielberg via a new 'Unite' television spot that highlights some of the most influential civil rights leaders of all time.
Not everyone was firmly planted in front of their television set last night watching President Obama and challenger Mitt Romney debate. Those of you that missed the spot need not worry. Disney has released a nice clean extended version of the 'Unite' Lincoln spot online that you can watch as many times as you would like below. Be sure to pause on the awesome shot of the sparkling white Capitol building as it would have looked shortly after being built.
Lincoln stars Daniel Day-Lewis as our 16th President, Joseph Gordon-Levitt, Jackie Earle Haley, Jared Harris, Lee Pace, Tommy Lee Jones, Sally Field, David Strathairn, John Hawkes, and James Spader. The film opens in limited release on November 9, followed by a wide release a week later on November 16.