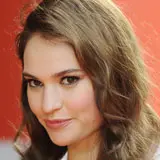 Disney and Sir Kenneth Branagh's extensive search to locate the perfect fit for the new live-action Cinderella lead has finally wrapped up with Downton Abbey's Lily James landing the coveted role.
James beat out a wide selection of actresses vying for the role ranging from big stars like Emma Watson to virtual unknowns. Watson was at one time reportedly negotiating for the part until a deal could not be reached.
Cinderella will be directed by Sir Kenneth Branagh and also feature Cate Blanchett as the evil stepmother. Disney's note to media earlier today promised more Cinderella casting announcements in the near future.
Chris Weitzis (About a Boy, The Golden Compass) penned the script with Simon Kinberg, Allison Shearmur and David Barron serving as producers.
Disney is no stranger to turning its fairytales into live-action motion pictures. Oz The Great and Powerful is the latest example to mix cinemas, with Maleficent starring Angelina Jolie on the way. Alice in Wonderland was another recent big hit for the Mouse House. Early development is already underway on Beauty and the Beast as well.
The timetable for Cinderella to arrive on the big screen is fairly tight with Disney and Branagh aiming for a fall shoot and a release date in 2014.