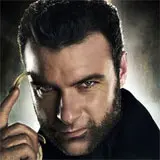 Few details about the second X-Men Origins: Wolverine film are know other than what was inferred through the alternate ending with Hugh Jackman hanging out in a Japanese bar. In Japan.
Discussions at Fox are underway on the upcoming sequel and one potential character has spoken out about how he would like to fit into the story.
In talking with MTV News, Liev Schreiber was asked if he'll appear in the Wolverine sequel reprising mutatnt Sabretooth. "There's been some smatterings of conversation about it, but nothing concrete yet," Schreiber responded. "I had a ball doing it, so I'd do it again."
While not the greatest endorsement for a cameo role, a "smattering of conversation" with his name involved is a lot better than nothing at all.
As for what Liev would want to bring to the character a second time around, he adds, "I'd like to find out how my Victor became Tyler Mane's Victor." He makes a good point. If you recall, Liev's Victor is well spoken and quite intelligent. By the first X-Men film, Victor is the equivalent of a primitive beast whose language consists of grunts and moans.
Why Victor would be in Japan is a big creative obstacle to overcome, unless Logan's presence in Japan does not span the entire film. Figuring out the specifics are what screenwriters are for.