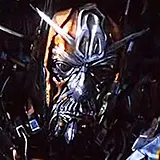 Leonard Nimoy has boarded Michael Bay's Transformers: The Dark of the Moon in a surprise move after the actor had retired from acting upon his character's death in Fox's 'Fringe.'
EW reports that Nimoy will voice Sentinel Prime, the long lost Autobot leader whose body in stasis is seen aboard the crashed Ark in the Transformers: Dark of the Moon teaser trailer. Once freed from the Ark, Sentinel Prime will join up with Optimus, take on the form of a fire engine, and help the Autobots wage another war against Shockwave, Megatron and the Decepticons.
The irony of Nimoy joining Bay's third Transformers film is twofold. Bay had originally thought about putting Nimoy in Transformers: Revenge of the Fallen but never approached him due to a family connection: Nimoy is married to Bay's cousin, Susan. That connection may have helped lure Nimoy briefly out of retirement for the voice acting gig.
Those who grew up on Transformers in the 1980s will remember Nimoy as the voice of Galvatron in the animated Transformers: The Movie. Galvatron had quite the introduction in which he interrupted Starscream's coronation as the new Decepticon leader to test out his newly formed body and cannon on a live target. Check out the awesomely nostalgic clip below.
If we're lucky, Sentinel Prime will take out Bay's chicken-legged Starscream in an equally satisfying manner.
Source: EW