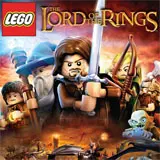 Lego The Lord of the Rings from TT Games is the latest diminuitive video game adventure enhanced with Lego's signature brand of humor. It's a great game that fans of Lego Batman 2: DC Superheroes will equally enjoy.
As part of Amazon's Black Friday 2012 deals, all versions of Lego The Lord of the Rings are currently on sale for $20 off. That means the Xbox 360, Wii and Playstation 3 versions are priced at $29.99 from $49.99, the 3DS and PS Vita version is down to $19.99 from $39.99, and the DS version is only $14.99.
This is a fairly dramatic price reduction for a game that has been out in stores for only about three weeks. Thank Black Friday for that, though there's no telling how long these prices will hold.
Click here to purchase Lego The Lord of the Rings on the platform of your choice for $20 off at Amazon.com.
You can also browse Amazon's Black Friday video game deals which include many other offers such as Assassin's Creed III and Madden NFL 13 for $34.99, Just Dance 4 for $29.99, the must-play Dishonored for a mere $24.99 and more.
Check back regularly throughout the next several days as we pass along the best home entertainment deals for Black Friday through Cyber Monday.