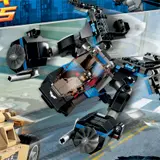 Lego continued revealing new January 2013 sets at New York Comic-Con today by bringing Marvel's Ultimate Spider-Man and DC Comic's The Dark Knight Rises into the fold.
The first big NYCC-timed announcement came in the form of a new license for those heroes in a half-shell, the Teenage Mutant Ninja Turtles. Lego previewed one new Turtles set and provided images of some NYCC giveaway exclusives.
Yesterday the announcements continued with high-resolution looks at five new Lego sets based on Peter Jackson's The Hobbit. These sets range in size and confirm where Legolas is being fit into The Hobbit story.
Today's announcement sends some love to Marvel and DC Comics. The Marvel-based set is called 'Spider-Man: Daily Bugle Showdown' (476 pieces, $49.99) and includes minifigures of Spider-Man, Doctor Doom, Jonah Jameson, Nova, and Beetle. The Ultimate Spider-Man universe design should fit nicely into existing Lego urban-based setups.
The DC Comics' set is titled 'The Bat v. Bane: Tumbler Chase' (368 pieces, $39.99) and based on Christopher's Nolan's The Dark Knight Rises film. It includes simplified designs of The Bat and Tumbler vehicles, as well as minifigures of Batman, Bane, Commissioner Gordon. The reason for the smaller simplified vehicles is to keep costs as low as possible and make the sets as accessible as possible to builders of all ages.
All of these sets are due in stores in either late December or sometime in January. The official release date is January 1, 2013. Click on the assembled images below for a high resolution look.