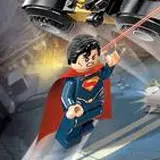 With Toy Fair just around the corner, sneak peeks at action figures, Legos and other goodies from this upcoming summer's comic book movies are starting to make their way to the web. The latest comes from Zack Snyder's Man of Steel and features what aims to be an epic showdown between Superman (Henry Cavill) and General Zod (Michael Shannon).
The new Lego set "Superman: Metropolis Showdown" includes minifigures of Superman and General Zod, along with a yellow car and antennae array they look to be throwing around like the super strength warriors they are. This set is priced at $12.99 and should arrive in stores closer to the film's June 14, 2013 release date.
Mattel is extending their Movie Masters line from The Dark Knight Rises into Man of Steel, and below is a look at the General Zod figure from the line. Notice the base outfit is strikingly similar to that of Superman. These figures will sell for $14.99 each.
Last is a more comical look at Zod as a Funko Pop! vinyl figure. Priced between $8.99 and 10.99, these cute little guys are due to arrive in stores this May.
Look for more Man of Steel toy reveals, as well as Iron Man 3, in less than two weeks after Toy Fair 2013 gets underway in New York City beginning February 10.
Source: USA Today