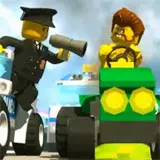 The first quarter 2013 Wii U software slump is about to come to an abrupt halt with next week's release of Lego City Undercover. Nintendo has put out a pair of new TV spots to promote the upcoming Wii U exclusive's "disguises" and "vehicles," both of which feature some all-new gameplay that we haven't seen yet.
Developer TT Games proved with last summer's Lego Batman 2 DC Super Heroes that they could create an open-world Lego adventure and offer countless hours of gameplay to beat the story mode and then track down the huge number of collectibles and unlockable characters.
Lego City Undercover aims to carry forth the gameplay style of Lego Batman 2 DC Super Heroes, but do so with Lego-created characters and settings. This is a first for TT Games as all of their previous Lego adventures have been based on licensed properties.
If you're like me and clamoring for something new to pop in the Wii U, definitely give Lego City Undercover a look.
Click here to pre-order Lego City Undercover with free shipping at Amazon.com.