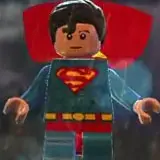 WB Games and TT Games have released the first trailer for Lego Batman 2 DC Super Heroes, the sequel to Lego Batman first revealed this past December via a flier packaged in with Lego Batman toys.
What we can gather from the trailer isn't much more than what we already knew about the game. Superman, at minimum, will join up with Batman and Robin at some point in the game to help take down The Joker and a collection of his villain BFFs that will include, at minimum, Lex Luthor. Catwoman will also appear in the game, though there's no telling which side she will align herself with. And Batman and Robin will get to fly jets in what is presumed to be the game's opening act.
It is suspected that Lego Batman 2 DC Super Heroes will also include DC characters such as Aquaman, Wonder Woman, Green Lantern and more that will come into play as the game progresses. For now, Warner Bros. seems content to let Superman and Batman take center stage. Superman is already stealing the spotlight with his ability to fly and shoot lasers out of his eyes.
Lego Batman 2 DC Super Heroes is due in stores this summer on Xbox 360, Playstation 3, Wii, 3DS and PS Vita.