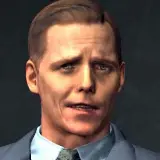 Rockstar Games has released an awesome new three-minute trailer that delves deep into the LAPD inner workings and personnel in L.A. Noire.
The gameplay series video, titled 'Rising Through the Ranks,' shows many of the partners Detective Cole Phelps will be working with throughout the game, as well as some of the specific murder mysterious that will be encountered. It also discusses 'Intuition Points,' 'Unassigned Cases' and the ranking system, all integral to the L.A. Noire experience.
This is easily the best L.A. Noire video yet and should sell just about anyone who was on the fence about picking up Rockstar's latest when it arrives on May 17 for Xbox 360 and PS3.
Pre-order L.A. Noire on Xbox 360 or PS3 at Amazon.com and earn a $10 credit toward a future video game purchase as well as an exclusive Broderick Detective Suit.