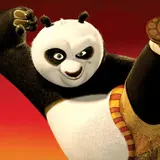 Paramount has opted to share the entire Kung Fu Panda 2 Super Bowl commercial online several days prior to when it's scheduled to first air on television.
The commercial, which plays like a teaser trailer, features Po and his Furious Five pals engaged in various forms of combat. The theme is "we will WOK you" and plays to Po using woks as weapons. He did grow up working in a kitchen, after all.
Watch Po and the Furious Five beat up thugs below. Kung Fu Panda 2 will be available everywhere in theaters on May 26.
>