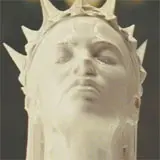 Mirror, Mirror, on the wall. Who is the fairest of them all in Universal's Snow White and the Huntsman? Is it Charlize Theron as the Evil Queen, or Kristen Stewart as Snow White? Judging by the first trailer released earlier today, Universal's walking golden mirror man has chosen the former.
The first Snow White and the Huntsman trailer suspiciously doesn't introduce Stewart's Snow White character until just past the midpoint. Instead of spotlighting the hero, Charlize Theron's Evil Queen provides the voice-over and appears in the majority of shots. She turns into birds, stabs a man in bed, and sucks the life out of a hapless redhead until the victim crumbles to the floor. That's one Evil Queen who lives up to her billing.
The Evil Queen probably has something to do with why a knight shatters into little bits when struck with a sword as well. A spell, perhaps? I doubt the knight in question was a Terminator so something beyond the ordinary is afoot.
Stewart gets her obligatory scenes in the trailer's latter half, along with Chris Hemsworth as the gritty and well-armed Huntsman who gets to swing his blades at a variety of enemies. Spotted only briefly from behind are the seven dwarves: Beith (Ian McShane), Nion (Nick Frost), Gort (Ray Winstone), Coll (Toby Jones), Muir (Bob Hoskins), Quert(Johnny Harris), Gus (Brian Gleeson) and Duir (Eddie Marsan). Unless I'm mistaken, Sam Claflin as the Prince is only seen for a split-second having just kissed Snow White.
Director Rupert Sanders is making his feature-film debut with Snow White and the Huntsman and his bringing his visual flair to the project. If who was calling the shots remained a mystery then I might have thought Guillermo del Toro had a hand in the design and aesthetic. Some of the scene compositions and design similarities are uncanny.
Watch the Snow White and the Huntsman trailer below, followed by the new one-sheet poster and a trio of character posters for Kristen Stewart, Liam Hemsworth and Charlize Theron – each of which can be clicked on to view a high resolution version. The fairy tale arrives in theaters next summer.