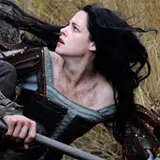 Kristen Stewart and Chris Hemsworth (Thor in The Avengers) face a towering menace in this new clip from Universal's Snow White and the Huntsman.
The clip first surfaced late this week when Stewart appeared on the Tonight Show with Jay Leno and presented it to audiences for the first time. Fans of Stewart's or those merely curious about her appearance can watch the entire Tonight Show segment below. Or, those who want to cut to the chase and watch only the roughly one-minute clip can hit up the second video.
In the clip, Stewart (Snow White) and Hemsworth (The Huntsman) are making their way through the forest, presumably after the Huntsman has decided he doesn't wish to carry out the Queen's (Charlize Theron) order to take out Snow White. While walking through the trees, the pair disturb a resting troll who takes offense to the humans' presence.
This woods troll looks like he was born out of Guillermo del Toro's creativity. He's big, nasty, mean, and would look right at home in Pan's Labyrinth. He also swats Snow White and the Huntsman like they're gnats. I can hear anti-Stewart pundits giggling already.
Kristen Stewart is hoping her Twilight fans will follow her to a new potential blockbuster franchise when Snow White and the Huntsman opens on June 1 in theaters everywhere.
In addition to the Snow White and the Huntsman clip and Tonight Show footage, a new poster for the film is also available below for your perusal.