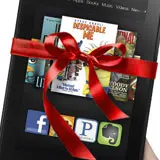 Amazon.com is attacking Cyber Monday 2012 in style by discounting one of their most popular items, the new and improved Kindle Fire.
For the rest of tonight, the Kindle Fire with special offers is on sale at Amazon.com for $129. That is $30 percent off the usual $159 price tag and likely the lowest a Kindle Fire will be up for sale prior to Christmas next month. This deal expires tonight at 11:59pm PST / 2:59am EST which is only a few hours from the time of this post.
The only way to snag a Kindle Fire (one per account only) is to make sure you enter the promo code FIREDEAL at checkout after clicking through the purchasing link below. The $129 Kindle Fire with special offers will require viewing ads on the Kindle while the screensaver is on, though this feature can be permanently deactivated for $15 at any time. You can still earn a $30 discount if selecting the Kindle Fire without special offers, making the price $144 after the promo code FIREDEAL is added during checkout.
Click here to buy a Kindle Fire for $129 at Amazon.com.
To be clear, this is the current Kindle Fire that is 40 percent faster and has twice the memory and battery life as the original Kindle Fire last year. It is not the new Kindle Fire HD that starts at $199, or the most popular Kindle this holiday season, the new Kindle Fire HD 8.9.
Kindle Fire features over 22 million movies, TV shows, songs, magazines, books, audiobooks, and popular apps and games, web browsing, cloud storage, and more. Movies and video are accessible via the usual suspects such as Netflix and HBO Go, amongst others. You will also gain access to the Kindle Owners Lending Library if you're an Amazon Prime member.
One last time, the Kindle Fire Cyber Monday deal ends tonight at 11:59PM PST sharp. Once the click strikes 12am on the west coast, this deal will be gone and the Kindle Fire with special offers will return to its $159 price tag.