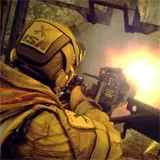 Sony used PAX this past weekend to announce the official release date for Guerrilla Games' hot sequel Killzone 3 will be available in stores exclusive on PS3 starting February 22, 2011.
A multiplayer demo was available to play on the floor at PAX though to date Sony has not confirmed – nor denied – a closed beta will be available prior to the game's launch. If a multiplayer beta is launched, I'm wondering if it will include 3D that will be included with the full game.
Here are the latest Killzone multiplyer screens released just before PAX.
Pre-order Killzone 3 for PS3 at a discounted price from Amazon.com.