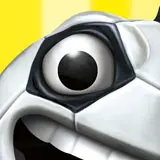 The newest Skylanders Swap Force variant figure will be Kickoff Countdown, complete with a soccer ball paint job to coincide with the upcoming 2014 World Cup tournament in Brazil.
As you can see in the images below, all of which can be enlarged by clicking on them, Kickoff Countdown is ready to bury one of his rockets into the back of the net. Be on the lookout for Kickoff Countdown as he should be arriving in stores first this upcoming Sunday, May 18 exclusively at Toys R Us, followed by other retailers the following week.
Click here to shop for Kickoff Countdown at Amazon.com.
Originally, Kickoff Countdown was discovered by a group of Yetis who were snowboarding one particularly chilly morning when they came across a big bomb encased in ice. After bringing it back to their cabin, they were shocked when it actually came to life. No one, not even Countdown himself, has any memory of where he came from or how he ended up frozen in the mountains. Since becoming a Skylander, Master Eon has been graciously trying to help piece together fragments of his past. But this has proven difficult, as Countdown loses some of his memory every time he explodes – which happens a lot!