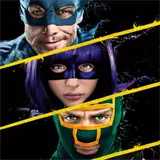 Universal Studios Home Entertainment has given a December 3 release date to the sequel Kick-Ass 2 on Digital HD, followed two weeks later on December 17 by the film's release on Blu-ray and DVD.
Kick-Ass 2 is directed by Jeff Wadlow and stars returning actors Aaron Taylor-Johnson, Christopher Mintz-Plasse and Chloe Grace Moretz, along with new cast members Jim Carrey, Donald Faison, John Leguizamo and Morris Chestnut. The film earned a respectable $28.8 million at the domestic box office and $59.5 million worldwide, more than double its $28 million budget.
The Blu-ray and DVD combo pack of Kick-Ass 2 comes with an exclusive alternate opening that won't be found on the other versions. The complete list of extras exclusive to this version are as follows:
Alternate Opening with commentary by writer and director Jeff Wadlow
Big Daddy Returns – The Unshot Scene with commentary by writer and director Jeff Wadlow
An Ass-Kicking Cast – In this featurette, we'll go behind the scenes with returning stars Aaron Taylor-Johnson, Chloe Grace Moretz and Christopher Mintz-Plasse, as well as new cast members Jim Carrey and Olga Kurkulina to talk about the camaraderie during shooting as Jeff Wadlow guided his actors through outrageous action set-pieces.
Street Rules: Showdown At The Evil Lair – In a scene that took over two grueling weeks to shoot, Kick-Ass, Hit Girl, and their legion of home-grown heroes square off against the Toxic Mega C***s in a no-holds-barred war that is as action-packed as it is hilarious. This featurette will explore the intricate fight choreography required for this searing death match from multiple viewpoints such as storyboards, stunt pre-viz and behind-the-scenes footage.
Hit Girl Attacks – Creating the Van Sequence
And here are the additional bonus features that will also be available on the DVD as well as Blu-ray:
Extended Scenes with commentary by Jeff Wadlow
Upping the Game – In this revealing featurette, we will delve into the creative story process leading up to production and discover the origins of this latest incarnation of Kick-Ass.
Going Ballistic: Weapons & Stunts – Discover how the actors and stunt performers crafted the on-screen carnage as Armorer Damian Mitchell showcases the film's vast arsenal of weapons, from firearms to the Colonel's custom-made axe handle and the pink nunchucks wielded by Hit-Girl. Special-effects supervisor Sam Conway explains how the maelstrom of mayhem was created under the watchful eye of director Jeff Wadlow, second unit director Dave Reid and stunt supervisor James O'Donnell.
Creating A Badass World – Production designer Russell De Rozario, costume designer Sammy Sheldon and hair and makeup designer Fae Hammond collaborated very closely with Jeff Wadlow to creating the heightened reality of Kick-Ass 2. Journey through the jaw-dropping sets created for the Justice Forever Headquarters and the incredibly elaborate man cave known as The Evil Lair. Also learn how the multitude of unique and badass costumes were created and inspired the cast.
Feature Commentary with Aaron Taylor-Johnson, Chloe Grace Moretz, Christopher Mintz-Plasse, and Jeff Wadlow
Kick-Ass 2 on Blu-ray will be presented in 2.4:1 1080p video and 5.1 DTS-HD Master Audio.
Update: Kick-Ass 2 Blu-ray cover art has been added below.
Pre-order Kick-Ass 2 on Blu-ray and DVD combo for $23.86 at Amazon, 32% off the $34.98 list price.